Current Issue
Showing all 11 results
Christian Ethics & the Future of Work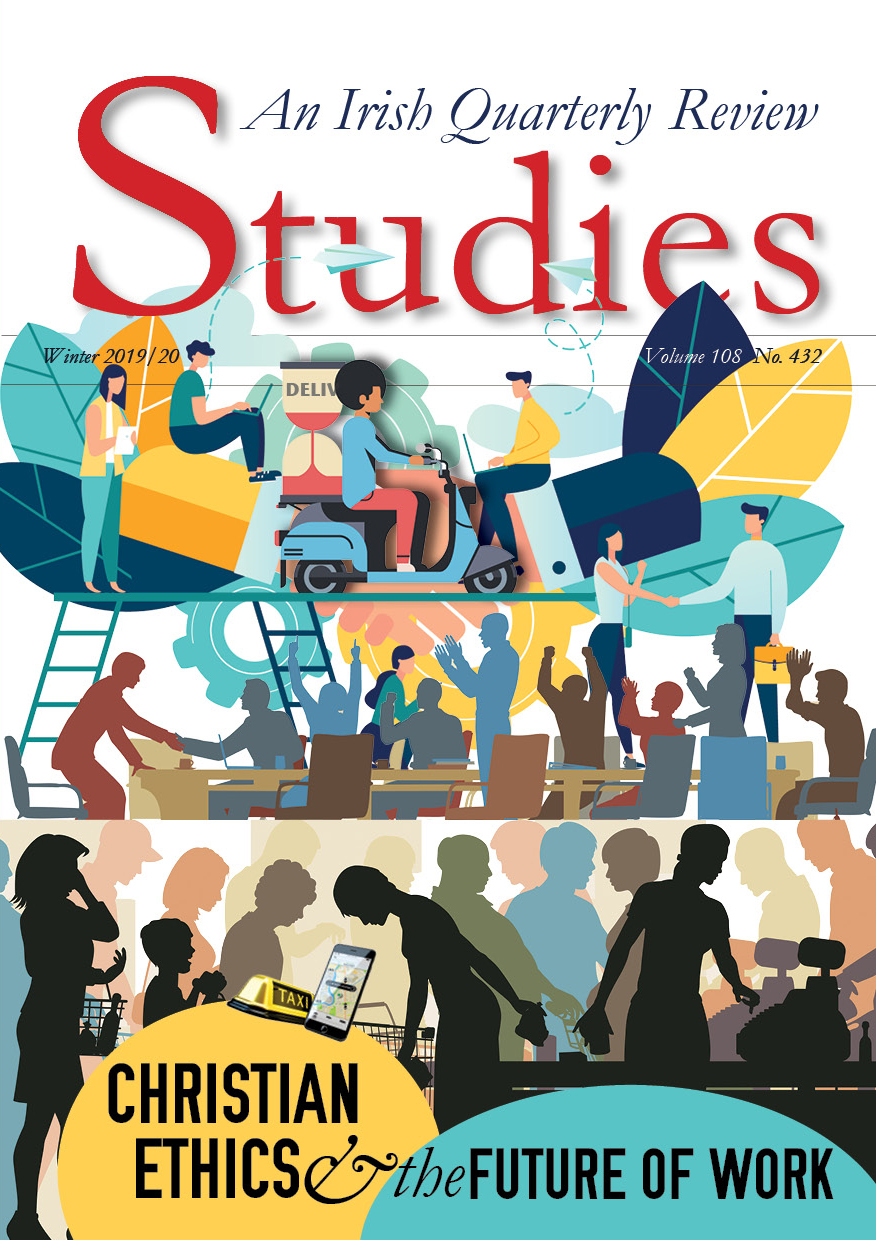 The Winter 2019 issue looks at the impact that the gig economy and other factors have on our attitudes and shifting priorities regarding the nature and future of human work – have we abandoned the dignity and integrity of the worker to the incessant demands of the marketplace?
€10+p&p
The present issue of Studies contains all the papers delivered at the recent workshop, Regulating the Future of Work: a Christian Ethics Perspective, held in Trinity College Dublin on 4 October 2019.
The importance of the topic, at a time when the nature of work is changing, inequality between mainstream workers of all kinds and those at the highest levels is growing to grotesque and shamefully unjust extremes, and participants in the so-called 'gig economy', with all its precariousness, have become an everyday feature of life around us, needs no underlining.
The treatment in these papers, by scholars and practitioners with a variety of interests and specialisms, is engagingly diverse and highly thought-provoking. The salience of Catholic Social Teaching, in particular, emerges as a significant source of wisdom and insight. Much more needs to be made of this.
The workshop was the brainchild of Mark Bell, Regius Professor of Laws in Trinity College, who planned it, organised it and oversaw its successful operation. Studies is in his debt for the suggestion that this journal might publish the papers, which we are delighted to do.
In thanking him, we also thank all the speakers, who prepared their papers for publication at what was inevitably very short notice and under all the pressure of their lives and work elsewhere. It is very satisfactory to be able to include all nine papers and Dr David Begg's closing reflections in a single volume, as a full record of the workshop and a resource for further reflection. Professor Bell, in addition to his own valuable paper on 'The future of EU labour law: insights from Christian ethics', contributes a helpful preface to introduce the issue.
Finally, unconnected with the main theme (although editing is real work too, as the present writer knows), this issue of Studies also contains a tribute to Fr Ronan Drury, editor of The Furrow from 1977 until his death at the great age of ninety-three at the end of 2017. The Furrow, as Fr Paul Clayton-Lea, an editor himself, points out, has been a significant pastoral journal in the Irish Church, appearing monthly since its foundation by Canon J G McGarry in 1950. Studies is honoured, through Paul Clayton-Lea, to pay tribute to Ronan, a great priest and an outstanding editor, who worked for forty years in a field not very far from our own.
Contents