Current Issue
Showing all 9 results
The World in 2021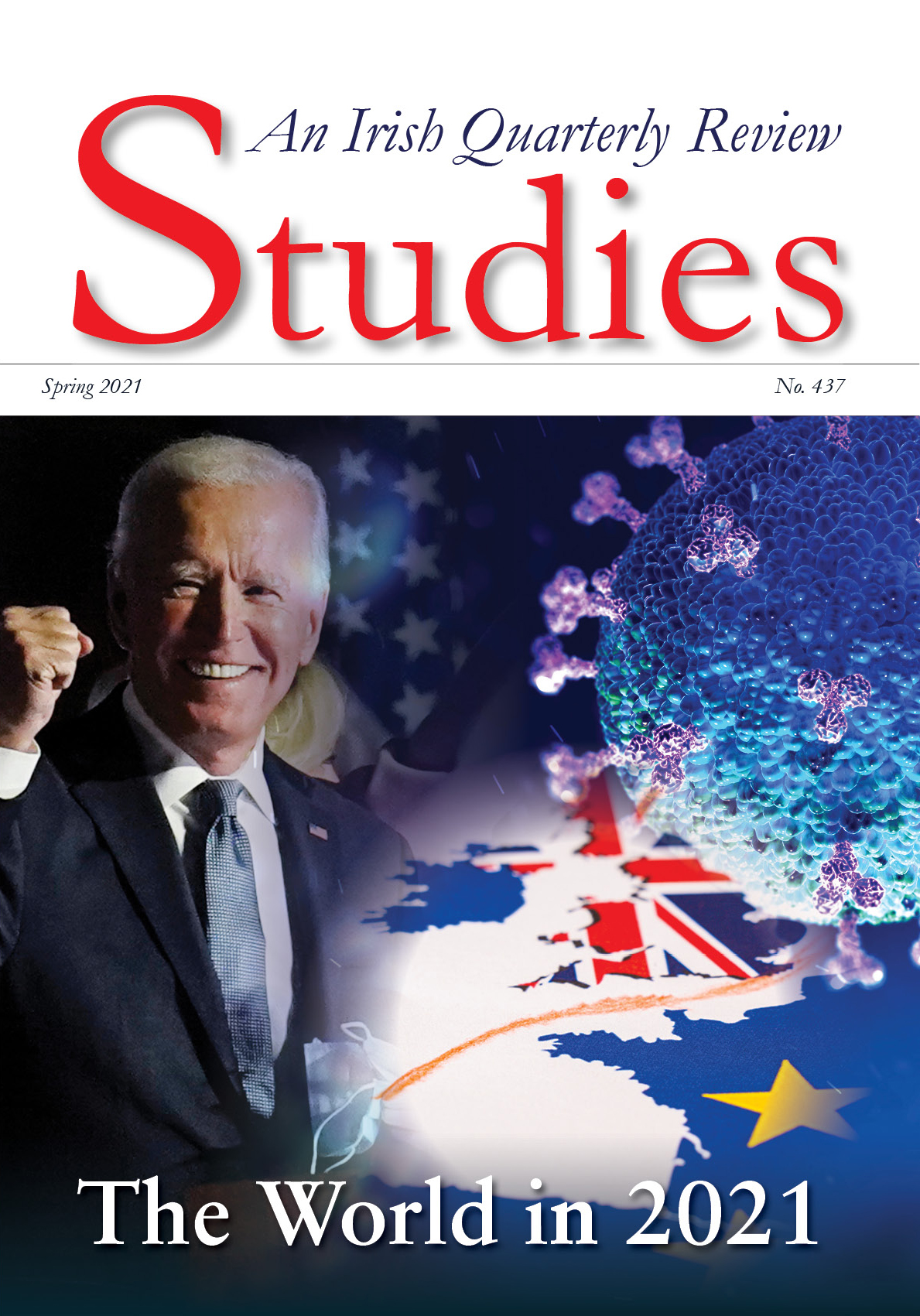 Completing his book, A Short History of Brexit: From Brentry to Backstop, in 2018, when that tortuous process was still unfolding, Kevin O'Rourke, Professor of Economic History at Oxford at the time, wrote of how 'there is a thicket of possible futures branching out ahead of us and nothing is certain'. 'This', he added, 'is what history feels like while it is being made'. Looking back now, as we leave 2020 behind and 2021, with all its uncertainties, beckons, those words have special resonance. We are deeply conscious, some of us perhaps for the first time, of 'what history feels like while it is being made'.
A year ago we wrote in these pages of how Britain was 'adjusting to the realities of Brexit'. Brexit is now, at least formally, 'done', to quote the Tory party's slick but misleading slogan as they campaigned successfully to win the last British general election in December 2019 on that prospectus. It has been a troubled and troublesome process, not least for Ireland, and it is proving far from the glorious recovery of untrammelled sovereignty its advocates, with Prime Minister Boris Johnson to the fore, had grandly promised. Even without tariffs, the border controls and complex paperwork required are causing a host of problems on both sides, slowing down trade, increasing costs and inhibiting easy movement. In the case of smaller businesses, this can be so crippling as to force them to transfer operations to the continent, which rather defeats the purpose of the entire enterprise to 'take back control', or else to close down altogether, for want of viability. As but one example, Irish shipping is looking for ways to avoid the 'landbridge' of Britain to reach the continent – a costly but necessary inconvenience – and the once busy port of Holyhead in Wales, which accommodated so much traffic to and from Ireland, risks becoming something of a ghost town. And the Irish border problem grumbles on. Being a 'third country', outside the EU, is not the hoped for sinecure and the reclamation of British 'sovereignty' is not what it may once have seemed.
Hostile to the EU, as he was to so much else that threatened American economic hegemony (and therefore his own re-election), Donald Trump – unlike his continually disparaged, but immeasurably superior, predecessor Barack Obama – was a zealous encourager of a so-called 'hard' Brexit (likely to have been even more damaging for Ireland – and Britain itself – than the version which has emerged). The prospect of deregulation and supposedly easy access to the American market, in particular, was a significant element in British 'Leave' propaganda. That a slightly less uncompromising set of arrangements was finally agreed at the last minute just before Christmas 2020, in the wake of Mr Trump's defeat in November, may not have been a coincidence. What is certain is that this necessitated an awkward change of gear in Whitehall, as the British government struggled belatedly to establish working relationships with the very different Biden presidency now coming into office.
A year ago in these pages, in what proved a very considerable underestimate, we wrote of the American presidential election as likely to be 'bad-tempered'. Just how deeply disturbing events connected with the election would turn out to be could hardly have been foreseen. Mr Trump's campaign to undermine the election results, long before any ballots had been cast (echoing his efforts to the same effect in 2016), failed to succeed in its ultimate aim of ensuring his own return to office. But it did have the effect of massively undermining trust in the democratic system under which the election was held and led to some of the most disgraceful scenes in American history, when Trump-inspired, not to say Trump-incited, mobs stormed the Capitol on 6 January 2021, while the constitutional process of verifying Mr Biden's emphatic victory was taking place. The consequences are playing out in the Congress at the time of writing, as Mr Trump's unprecedented second impeachment trial takes place. The damage to the cause of democracy more generally, already a cause of the greatest concern throughout Donald Trump's bizarre term of office, continues to reverberate around the world, not least in places where democracy's underpinnings are even more fragile than those in the United States have, under Mr Trump's onslaught, shockingly revealed themselves to be.
Meanwhile, hovering disastrously over everything, has been the Covid-19 pandemic which, at the time of writing, has led to the deaths of some two million people in every corner of the world and which continues to influence all aspects of our lives wherever we are. As of this date, in the early weeks of February, 107 million cases of the disease are on record and more than 2.3 million people have died. 3,750 have died in Ireland, 114,000 in the United Kingdom, and – most shamefully of all, given its enormous resources and depth of scientific and medical knowledge and technology – almost 470,000 in the United States. To the enormous credit of those involved in many countries, a variety of vaccines has been developed with remarkable speed to compete with a virus which continues to show an alarming propensity to mutate. Regrettably, it has to be emphasised that, despite the global nature of the challenge, richer countries are showing damaging reluctance to share vaccines with those that are poorer, a self-defeating strategy which ensures that, until everyone is safe, no one is safe. And so the crisis continues, a full year since the virus was first identified in China and the rest of the world gradually awoke to the danger.
A number of the lead-essays in this issue of Studies reflect on the impact of these transformative events, more or less close to home, over the past twelve months. Kevin O'Rourke, already mentioned and now Professor of Economics at New York University, Abu Dhabi campus, takes a cautiously optimistic view of the state of play regarding the three issues focused on above: the Trump presidency is finished, Brexit is – in some sense and for better or worse – done, and Covid-19, he hopes, will soon be defeated. But the underlying problems of nationalism, xenophobia, racism and rising inequality, which have had much to do with generating the problems the world currently faces, have been laid bare. The solutions he proposes in his carefully measured essay, are the creation of decent jobs in the global economy in aid of ending inequality, 'levelling up' of standards everywhere, realisation that not all government intervention amounts (or reduces) to protectionism, and that there is no trade-off between health and the economy, a spurious binary choice frequently mooted.
Another eminent Irish scholar, like Kevin O'Rourke working outside Ireland, David Holloway, Professor Emeritus of both International History and Political Science at Stanford University, focuses his attention particularly on the United States, on which he has been an authoritative commentator for many years. After Trump and Covid-19, he asks, can there or should there be, in his words, a 'return to normalcy'? The events of the most recent years have helped to accelerate changes in the post-World War Two order. The illusion that democracy and market economies would prevail, Fukuyama's 'end of history', has been steadily eroded. 'The number of states that can be classified as democratic, but also in the quality of democracy in the states that can be so classified', Professor Holloway notes, has shrunk over the past decade and a half. American democracy, post-Trump (and the coalescence of forces which led to him) is in some disarray. The advent of President Biden, and his hoped-for impact on world order as a whole notwithstanding, 'America and the world are', he concludes sombrely, 'at a serious turning- point'.
The urgent need for authentic dialogue within and between countries, is all too clear. In American politics, the woeful undermining of truth, fact and expertise, so lamentably destructive of rational exchange, has plumbed new depths of incoherence under Donald Trump. Tomáš Halík teaches in the Czech Republic, one of the countries which emerged into freedom from Soviet oppression in the 1990s. His reflection is about what he calls 'the pandemic of fundamentalism' in the world and the parallel (and even coincidence) between the right-wing politics of such movements as, for example, the post-Trump Republican party and so many of its followers in the United States, on the one hand, and the religious fundamentalists within the Catholic church, usually identifiable by their hostility to the person and teaching of Pope Francis, on the other. As in many western democracies, people seem to be operating from 'unbridgeable parallel universes'. Professor Halík finds himself wearied with the effort to dialogue with those, supposedly within the same church as himself, 'Catholics without Christianity', as he is tempted to call them, at the expense of – also – practising the 'new ecumenism' to which the title of his piece here refers. For him, 'inter-religious dialogue, and especially dialogue with educated and thoughtful people outside the church' is 'so much easier than any communication with the people who combine religion with populist and nationalist efforts'. On this score, he is concerned about what is happening in Poland, where 'there is currently the fastest secularisation process in Europe under way'. Shortsighted support by some bishops of 'nationalist authoritarian politicians who cynically abuse Christianity for their own ends' runs the risk that 'a major part of Polish society, including especially the young generation, will be permanently alienated from the church, and "Catholic Poland", like "Catholic Ireland", will become history'.
The approach of Pope Francis to what is being discussed here is well exemplified in his recent encyclical, Fratelli Tutti: On Fraternity and Social Friendship, a rich document which has been followed more recently by Let Us Dream: The Path to a Better Future, a small volume of reflections based on conversation with Austen Ivereigh. In both, the pope reaches beyond his own flock and even all those who count themselves Christian believers of whatever kind, to promote the fraternity and open-minded dialogue which the times so manifestly call for. Pope Francis continues to be a source of wise, eloquent inspiration for the entire world. His voice, alas, is still too little heard.
One of the pope's former close collaborators, Cardinal George Pell, became grievously embroiled in accusations of abuse while he was Archbishop of Melbourne, accusations he vehemently denied from the outset. He was found guilty in lower courts in Australia, in a climate of marked media hostility to someone depicted as a champion of anti-liberal causes, and spent more than a year in jail. (During this time he kept a diary, subsequently published as Prison Journal, in the course of which he – revealingly – refers to President Trump as 'a bit of a barbarian, but in some important ways he is "our" barbarian'). He subsequently appealed his conviction to the High Court of Australia, where all charges against him were dismissed by a unanimous vote of seven to none. Professor Frank Brennan SJ, himself a lawyer and someone, who, as he makes clear, often crossed swords with Cardinal Pell on theological grounds, followed the case painstakingly from the beginning. In this issue of Studies, he provides a thorough and revealing account of the whole painful saga. He concludes firmly, on strictly legal grounds, that this high-profile case, which has done further damage to the church on its weakest flank not just in Australia but everywhere, 'should never have been brought'. Elsewhere in this issue Professor Bryan Fanning traces the genesis of Christian democracy in Europe and the birth of what has become the nemesis and whipping-boy of Brexiteers, the European Union. 'The Christian Democratic architects of European integration', he writes, 'variously blamed the war on modern nationalism, the rise of authoritarian fascism and the decline of Christian values'. It is sobering to reflect that all these factors are once more in the ascendant in our world in 2021. William Kingston thinks about the impact of Covid-19 and Brexit on Irish economic conditions and has a proposal about how the country might respond to the changing terms of globalisation and the foreign investment on which we so much depend. The lack of indigenous innovation, he warns, 'could become an even more serious problem for the country in the world that will emerge from Brexit and Covid-19'.
The poet Micheal O'Siadhail's friend and, in a sense, his close collaborator, the Cambridge theologian David Ford, has written an extensive introduction to his fellow-Irishman's recently published magnum opus, The Five Quintets. Professor Ford describes O'Siadhail's remarkably ambitious project as 'a portrayal of influential shapers of life and thought during a time, often labelled "modernity", of massive disturbances and transformations, with global consequences, in the arts, economics, politics, science, and philosophy and theology—and therefore fundamental challenges to all previous worldviews'. The commentator draws out the parallels with Dante's great fourteenth-century work, the Divine Comedy, but highlights the radically different context: 'Neither in English-language literary culture, nor in the dominant intellectual spheres of economics, politics, the sciences, and philosophy, has it been generally fashionable to "walk our daring God of love's high wire" in the way O'Siadhail does in The Five Quintets'. The second part of this two-part introductory essay will appear in the summer issue of Studies.
Finally, Professor Brendan Walsh of Dublin City University provides an instructive sample of his research into the 'contribution of the teaching religious in Ireland' between the 1940s and the late 1970s, based on oral testimonies and poignantly – and tellingly – titled 'Nobody will even remember it'. A second part of this account will also be published in the next issue of Studies.
As we survey the world of 2021, embattled not only by the pandemic but by the kinds of toxic nationalism and fundamentalism under discussion here, it is salutary to end with a quotation from someone Tomáš Halík calls 'one of the greatest Christian leaders of the twentieth century', the late Jesuit Archbishop of Milan, Cardinal Carlo Maria Martini: 'I am not so much afraid of people who do not have faith; what disturbs me are people who do not think'. Martini's Czech commentator is quick to clarify the proper import of Martini's words: '… the dividing line between the people who think and those who do not is not at all identical with the difference between the educated and the uneducated; my call is not for an "elitist religion of the intellectuals". The difference is to be found much deeper – in the "heart" of people'. The essential function of Studies lies here.
Contents
'Nobody Will Ever Remember It': An Oral History of the Contribution of the Teaching Religious in Ireland (1)

Brendan Walsh

This article seeks to review the contribution of teaching religious (sisters, priests and brothers) to schooling in Ireland between the 1940s and late 1970s, and principally employs the oral testimony of those who were taught by, and later taught with or as, members of religious congregations.

€

3.00 Purchase Single Article