Current issue
Showing all 11 results
Catholic Education in a New Ireland: Spring 2019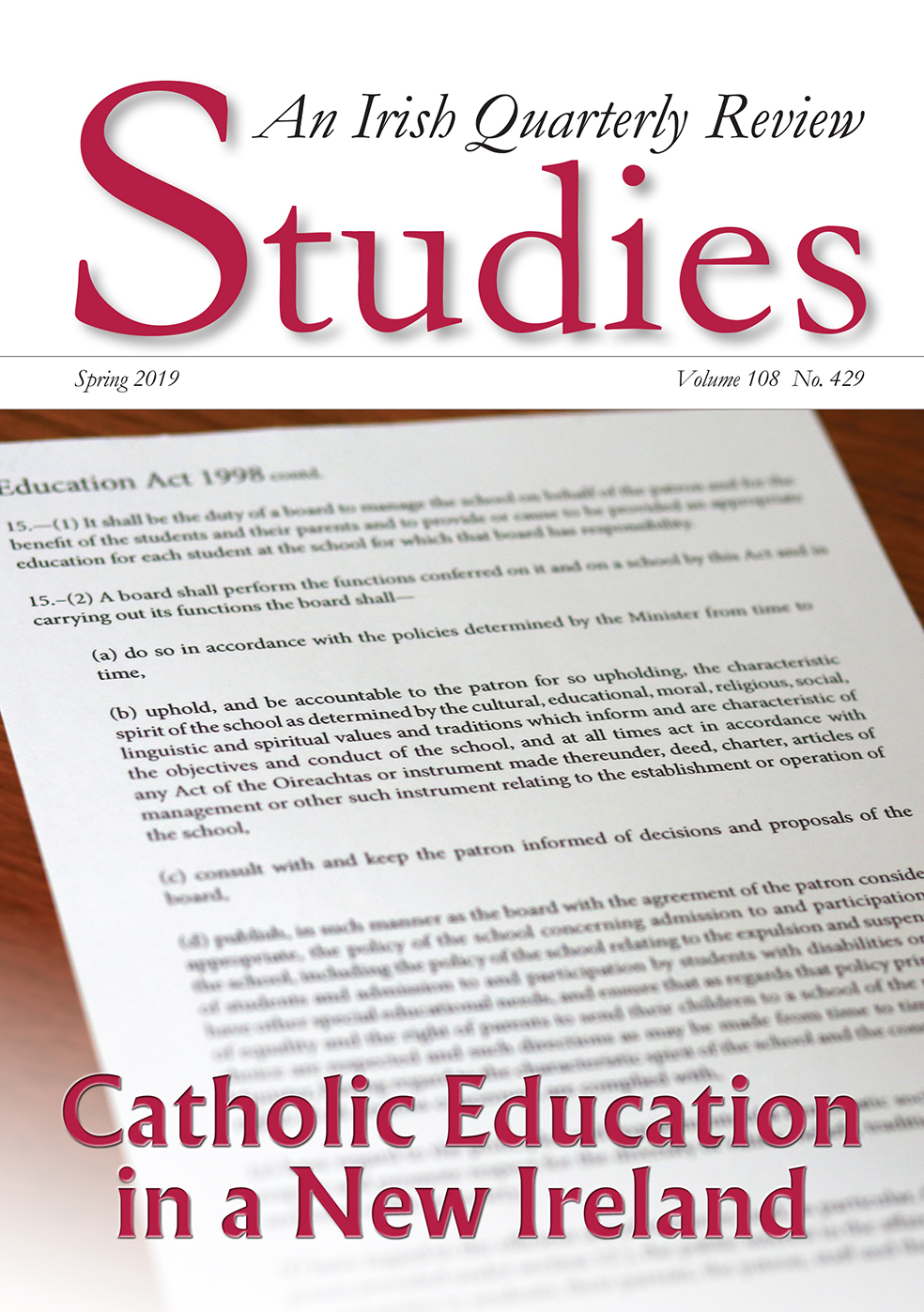 Catholic Education in a New Ireland
€10+p&p
Has a commitment to recognising the pluralism of modern Ireland created an environment that is hostile to Catholic education?
In the spring issue of Studies: An Irish Quarterly Review, Feichin McDonagh ponders whether the religious liberties of the 1937 Constitution are under attack. He observes that while the constitution grants parents the right to provide for the religious education of their children, The Education Act of 2018 may single out Catholics as the only religious community in Ireland unable to focus on members of their own faith.
Paul Meany, examining the involvement of the Catholic Church in education argues that by international standards the level of Church involvement we see in Irish education is in line with that seen around the world.
Brian Flannery and Archbishop Michael Jackson examine what pluralism and ethos mean for Irish Catholic schools. If we understand pluralism properly contends Flannery, we can preserve, where desired, a Catholic ethos in education that is compatible with the pluralism of modern Ireland. Jackson, from the perspective of the Church of Ireland, exculpates those who want religious education for their children, positing that the religious ethos of a school is distinctive and important to the growth of the student.
Amalee Meehan shares a concern for the dissolution of Catholic ethos in Irish education – she argues persuasively that new government guidelines relating to Religious Education in the Junior Cycle will make it difficult if not impossible for Catholic schools to maintain their commitment to faith formation. There is an urgent need for those invested in Catholic education in Ireland – teachers, principals, parents and students – to respond, and Meehan turns to the USA for guidance.
Referencing the mixed cultural and religious communities of the North, former taoiseach John Bruton argues that Pluralism has always been a feature of Irish life. He discusses what the 1918 General Election can teach us about the Belfast Agreement and the future of Northern Ireland.
How can we make that fraught history of religious pluralism work today for the good of a diverse, modern Ireland? A must-read for Irish educators, Studies has the first word on the future of Catholic education in Ireland.
Purchase individual articles and receive a PDF to your email address. Each PDF costs €3.
Contents