Winter 2018
Showing all 10 results
1918 Irish Endings & Beginnings: Winter 2018 | Volume 107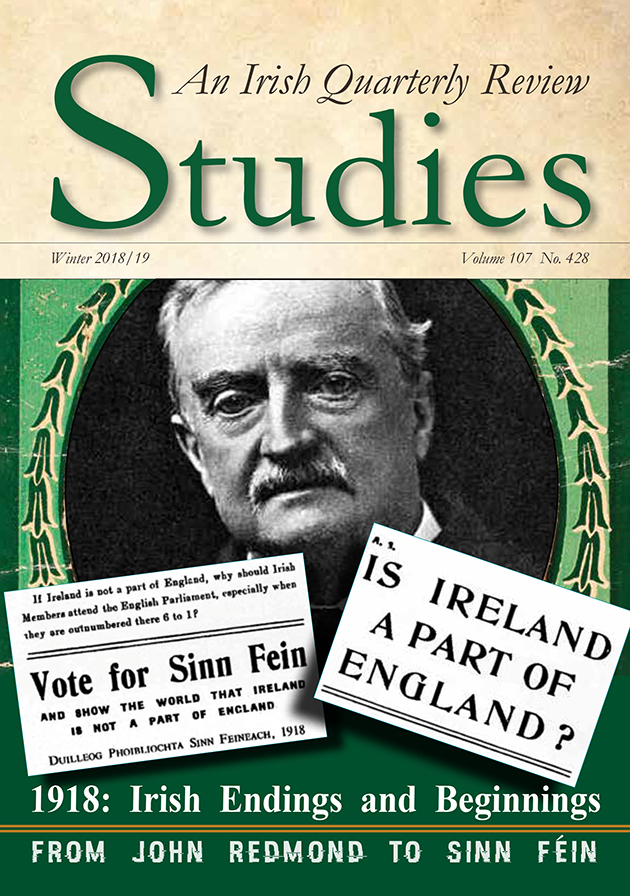 One hundred years on from the end of the First World War and with the centenary of the first Dail fast approaching in January 2019, Studies 1918: Irish Endings and Beginnings holds under its gaze significant ends and beginnings of 1918, along with some momentous events a century later in 2018.
And what a dramatic arc of history this issue of Studies spans: from the fading embers of the end of the Irish Parlimentary Party, through the storied beginning of Dail Eireann, the chaos of Brexit to the unknown firmament that confronts European civilisation today. Running a hand over the pages we take in one hundred years of change, from the war that failed to end all wars to the European exit that may yet end all European exits.
The years have not been kind to some, as Ronan McGreevy writes of John Redmond, whose commitment to Irish participation in the First World War destroyed him and his party.
In a century of precarity for European democracy Anthony White writes of the cententary of Dail Eireann, examining the profiles of Irish TDs over one hundred years of uninterrupted parliamentary democracy. Is there anything in the makeup of the Dail that points to this longevity and that we, as Europeans, can use in facing the rise of a populist right-wing?
Fiona de Londras, an Irish woman in Britain and professor of Global Legal Studies at the University of Birmingham, offers an Irish perspective on Brexit. In a compelling and judicious paper de Londras urges us to show genuine concern for the future of the European Union and to join together to oppose populism.
To oppose populism it is essential that we speak truth to power. Celia G Kenny makes exactly this point, using the poetry of Israeli poet Tuvia Ruebner. To poetry, Kenny argues, we must turn in order to imagine new possibilities both political and personal.
Contents
After European Civilisation

Desmond Fennell

A common explanation of why the West is in turmoil has been the 'populist' risings against the ascendancy of 'liberal political and cultural elites'. But the root cause of the disorder lies further back…

€

7.00 Purchase Single Article