Poets in a Landscape: Kavanagh and Heaney: Volume 107 | No 425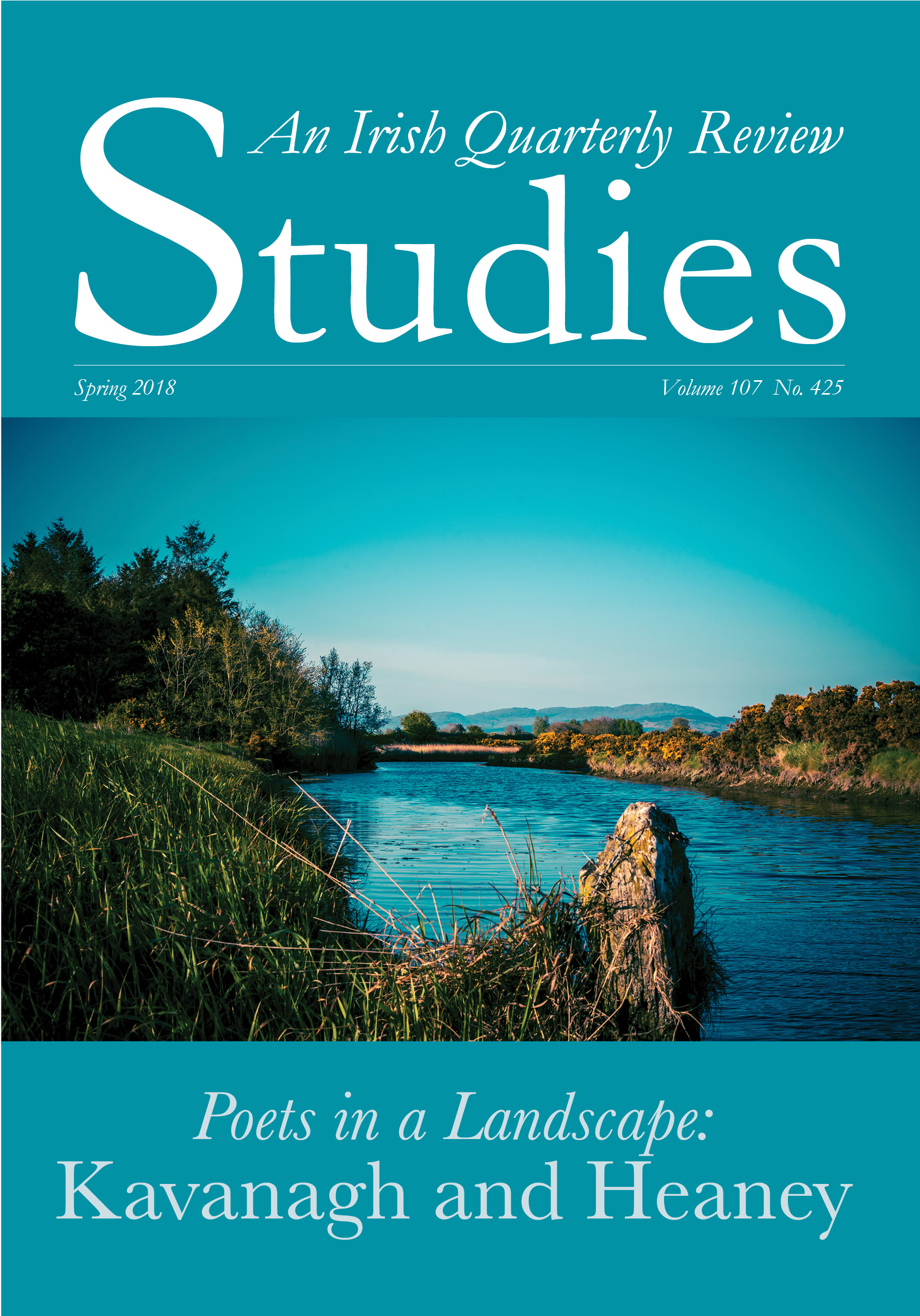 This issue of Studies contains three essays on poets; an argument of the need for more judges in the Irish legal system; a survey of the incidence of republican dissent among members of religious orders at the time of the Civil War in the early 1920s, with particular focus on the Society of Jesus; a study of the political significance of the Irish artist Alfred Elmore's painting of Thomas à Becket's murder in Canterbury Cathedral; and a reflection on the guidance to be gleaned from early Irish Christian sources in the quest for unity among the churches on this island.
Dr Una Agnew SSL, a leading Kavanagh scholar, has produced a close study of the links and parallels between two of the greatest Irish poets of our time, Patrick Kavanagh himself and Seamus Heaney. The connections are enlightening. Appropriately, in her wide-ranging examination, she pays particular attention to the place of God and religion in the sensibility of each poet. Kavanagh's inclinations in this regard are explicit, Heaney's less well known.
Many years ago, Michael Paul Gallagher SJ described James Joyce – who features as a guide to artistic freedom for both poets in Una Agnew's treatment – as perhaps 'Ireland's most famous atheist', whose 'version of unbelief may be prophetic of many less talented and less articulate Irish ex-believers'. That said, it is worth noting that Colum Power's remarkable recent study, James Joyce's Catholic Categories, argues persuasively that the extent of Joyce's atheism is open to significant misinterpretation and exaggeration, often by critics who are themselves unbelievers, ill-equipped to do justice to some of the deeper strands in the writer's self-understanding. But further discussion of Joyce and religion, and Colum Power's book on the subject, is for another day.
Meanwhile, it has to be said that the religious culture of Ireland has been, at least superficially, transformed since Michael Paul Gallagher made his comment in Joyce's centenary year of 1982. Seamus Heaney remarked towards the end of his own life that the 'biggest shift in my lifetime has been the evaporation of the transcendent from all our discourse and our sense of human destiny'. Of his own falling away, he wrote in 'Out of This World': 'There was never a scene / when I had it out with myself or with another. / The loss occurred off-stage'. As such, it might be said that Heaney's agnosticism – it is hardly more and, as Una Agnew strongly suggests, arguably much less – is emblematic of the stance of many Irish people in our time. He goes on to write, with striking resonance, 'And yet I cannot / disavow words like "thanksgiving" or "host" / or "communion bread". They have an undying / tremor and draw, like well water far down'. That last line, with its powerful evocation of the spirit's inner depths, suggests much more than mere cultural nostalgia on the great poet's part in the moment of his 'loss'.
No such issues arise in the discussions here of two English Jesuit poets from diverse eras, Robert Southwell who lived in the sixteenth century and Gerard Manley Hopkins in the nineteenth. Hopkins's so-called 'terrible sonnets' vividly reflect some of the inner struggles he experienced, especially during the time he spent in Dublin, but these struggles look more like what St John of the Cross classically characterised as 'the dark night of the soul', experienced by many authentically holy people, among whom Hopkins surely deserves to be ranked. The American Jesuit Hopkins scholar Professor Patrick Samway's piece here is concerned only to trace his use of scriptural language in his two great shipwreck poems, both written in 1878, some years before his Dublin desolation, 'The Wreck of the Deutschland' and the less famous 'The Loss of the Eurydice'. He highlights the relative poverty of Catholic biblical scholarship at the time when Hopkins was a student of theology in St Beuno's.
The religious conflicts of the sixteenth century and afterwards, which produced this unhappy development in later Catholicism, formed the context of Robert Southwell's tragically short life and led to his death as a martyr in 1595. Remarkably, his poem, 'A Vale of Tears', on which Dr Gary Bouchard focuses here, seems untouched by the dangerous clamour all around him at the time. The composure required on his part to write what in ways constitutes a kind of jeu d'esprit is remarkable in itself, quite apart from the accomplishment of his writing and the high heroism of his undoubtedly holy life and death.
The importance of judges for a flourishing democracy has been highlighted by recent political developments in the United States, Poland, Turkey and elsewhere. In these and quite a large number of other cases, what has been at stake in different ways is the independence of the judiciary and the extent to which other branches of government have been seen to exercise inappropriate control. Despite the role politics undoubtedly played in the appointment of judges in Ireland in the past, their independence once in office has rarely been questioned or caused concern and the Irish judiciary continue to represent one of the real strengths of our democracy. Judge Richard Humphreys, who sits in the High Court, originally delivered his paper, 'Enhancing our justice system', published in these pages, as the inaugural address at the Parnell Summer School last July. What is at issue for him is the inadequate number of judges here, by contrast with other, comparable jurisdictions, for which he provides extensive statistics. This shortfall is occurring at a time when the volume of litigation in Ireland is growing and leads to unacceptable delays in the courts. He points to the age-old wisdom that justice delayed is justice denied.
Republicanism is not something readily associated with the Irish Jesuits in the twentieth century. The Society was suppressed throughout the world in 1773, mostly as a Bourbon-led strategy to weaken the pope and the Catholic church at the time, but with other not always wholly unjustified charges against the Society at work in the process as well, one of which was that Jesuits were seen to exercise too much political influence in high places. This was a searing experience and led, after the restoration of 1814, to the adoption of an appreciably lower profile in anything that could be construed as political matters. To this extent the restored Society was an appreciably more conservative and rather less adventurous body than the order that had been suppressed or than, having recovered something of the pioneering spirit which inspired St Ignatius at its foundation, it has once more become since the Second Vatican Council. Against this background, it is almost surprising to discover small pockets of dissent among Irish Jesuits during the Civil War, as identified by Olivia Frehill in her revealing discussion of the matter here. Her paper helps to qualify, even a little, Louis McRedmond's kindly depiction, which she quotes, of Jesuits as a whole giving 'an impression of remaining serenely above the tensions' of that very tense time.
Visitors and worshippers in St Andrew's Church, Westland Row (which, of course, plays a part in the peregrinations of Joyce's somewhat religiously illiterate Leopold Bloom in Ulysses), may well admire Alfred Elmore's dramatic painting, The Martyrdom of Thomas à Becket, which hangs there, without fully appreciating its provenance or its political significance in 1840, when it was first exhibited. Caoimhín de Bhailís elucidates this background as well as – to use the journalistic cliché – Elmore's own 'back-story' in his fascinating exploration in these pages. In particular, he brings out the importance of the martyred twelfth century Archbishop of Canterbury as an inspiration for Daniel O'Connell, when he was engaged in a struggle on behalf of the church against the English crown in his time. He also highlights the role of O'Connell, derided as 'the anti-Saxon papist' in The Times in 1837, in commissioning the painting. In the years when Catholicism in England was beginning to reassert itself, Elmore's painting, as de Bhailís writes, evoked 'a sympathetic view of Catholicism', which was 'the religion increasingly associated with Ireland'.
The highly unecumenical temper of those times has, happily, long since largely dissipated in the relationship between Ireland and its nearest neighbour and within the United Kingdom as well, even if there is unfinished business in the northern part of this island, In a thoughtful reflection in the present issue of Studies, which is especially apt as we come to the end of events marking the 500th anniversary of Martin Luther, Dr William Swan, a priest of the Ferns diocese, draws from the lives and writings of three of the greatest figures in early Irish Christianity, St Patrick, St Columbanus and St Brigid, to propose three 'principles' which might guide us towards deeper communion. In thus returning to our roots, we might be able to transcend the lesser identities or 'flags' under which we too often choose to fly, at the expense of harmony and the witness to the gospel we all profess. The world badly needs such witness and Ireland, seemingly sleepwalking into ever greater secularism, needs it with some urgency too.
Purchase individual articles and receive a PDF to your email address. Each PDF costs €3.
Contents